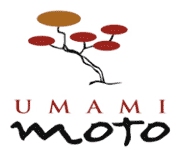 Edit
Umami Moto
718 N Milwaukee St
, Milwaukee
, WI
53202
|
Directions
Hours:
Mon-Wed:
5:00 pm - 10:00 pm
/
Mon-Wed, Thu-Sat:
5:00 pm - 11:00 pm
/
About Umami Moto
Umami Moto is an innovative Milwaukee restaurant that blends the best culinary traditions of the East and the West to create a truly one-of-a-kind dining experience.
With creative menus, exotic cocktails (including an incredible list of imported sake that is sure to make even the most well-suited sake connoisseur's mouth water), Umami Moto is a restaurant one won't easily forget. Nightlife enthusiasts will love the restaurants location, interior and social scene. The décor is a blend of the traditional Japanese aesthetic that favors open space, minimalist patters and a simplified color scheme, all in an effort to highlight the unique menu and to make attendees feel relaxed immediately upon entering, giving new meaning to the term Comfort Food.

Umami Moto delivers Milwaukee a truly unique dining experience with cutting edge Asian fusion cuisine. They marry class with culinary sophistication, which means you'll savor every minute spent at this trendsetting, fine dining destination.