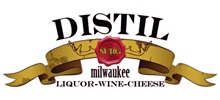 Edit
Distil
722 N Milwaukee St
, Milwaukee
, WI
53202
|
Directions
Hours:
Mon-Thu:
5:00 pm - 10:00 pm
/
Fri, Sat:
5:00 pm - 11:00 pm
/
About Distil
Distil is a wine bar, a cheese stop, a culinary treasure and meat-lovers' dream.
It houses a wide array of each (international wiles and Wisconsin cheese; deliciously cured meats and experimental meals), and will surely be one of the most unique dining experiences that one can have in the greater Milwaukee area. The Distil aesthetic is unique enough to grab attention, mixing apothecary chic with a more prohibition/rustic tinge. Visitors are sure to adore the mixed menu (headed by cooks willing to experiment), and the unique drinks. Come for the ambiance; stay for everything else.

The first artisan establishment of its kind, Distil transcends time altogether, offering the people of Milwaukee a rare opportunity to step into a world long extinct, into a bygone era epitomized by fashionable sensibilities, class, and commitment to quality.